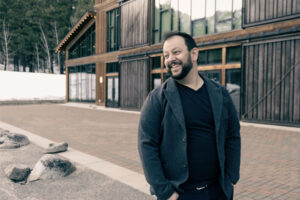 Icicle Creek Center for the Arts (ICCA) is pleased to announce that it has selected Philip Lacey as Executive Director, following a wide-ranging search in the fall of 2021.  Phil began his tenure at the beginning of 2022.
Phil is a well-known member of the regional arts community and a demonstrated proponent of artistic excellence and societal awareness.  Phil also has a history of helping arts organizations attain long-term financial stability.  Since 2013, he served various roles of increasing responsibility at Leavenworth Summer Theater (LST), including the position of Executive Director, and since 2017, as Managing Artistic Director of Seattle Gilbert & Sullivan Society.  In addition to greatly expanding both programming and support from the community, he inspired welcomed transformational changes in the areas of community partnerships, donor and member outreach, as well as implementing fiscal, administrative and artistic processes and standards.  During the pandemic, being keenly aware that art engagement is a source of comfort and strength, Phil helped Gilbert & Sullivan pivot to virtual performances and wisely coordinated actors, directors, and staff to safely bring LST's "Sound of Music" performances to over 8,000 attendees.  Phil has a bachelor's degree from the University of Massachusetts, Amherst, in Non-Profit Administration, and a bachelor's degree from Whitworth University in Theatre Performance and Creative Writing.
Phil could not be more excited to join the team at ICCA. "I first visited the ICCA campus in 2007.  Astounded first by its gorgeous location, it was learning of Harriet Bullitt's mission to create a world-class destination for arts education and performance that was truly impactful," said Phil. "Since then, I hoped that someday I would have the honor of becoming Executive Director here.  ICCA has a reputation of excellence and I look forward to working with the board, staff, and artistic directors to safeguard Harriet's vision for future generations."
In making the announcement, ICCA Board President, Ellen Beardsley said, "Among the many candidates, Phil stood out for me as the most qualified candidate for the Executive Director position. Phil's passion for all art forms, along with his leadership and strategic and financial expertise, placed him at the forefront of the intersection of arts, education and organizational sustainability. After the pandemic disruption of the last two years, Phil is the ideal leader for this exciting new chapter for ICCA."
As with all live arts organizations, the pandemic has presented a major challenge for ICCA, but it also provided a wonderful opportunity. "When the pandemic hit, ICCA quickly became a leader among performing arts centers, mastering high quality virtual concerts and performance at a time when we all really needed art in our lives," says Christine Morgan, Executive Director of the Icicle Fund, a partner nonprofit to ICCA. Phil echoes that thought. "Augmenting in-person experiences at the awe-inspiring ICCA campus with live-streaming and virtual performance potential will play a major role in the growth of our arts education and performance efforts, allowing us to connect with students and audiences of all ages across rural Washington and beyond. We have only scratched the surface, and I will be exploring that potential with the local and international artists and visionaries who continue to contribute so much to ICCA."
"The Center will continue to inspire, support, and challenge the creative spirit of our region as we again are able to gather for concerts, performances, and retreats," finished Morgan. "I have watched ICCA evolve over the years and, with Mr. Lacey at the helm, it will continue to expand and blossom for the good of our region."
Located in Leavenworth, Washington, at the foothills of the Cascade Mountains, ICCA seeks to inspire and educate artists and to entertain audiences on its 13-acre campus. The arts facility boasts:
Snowy Owl Theater, a LEED-Silver certified multi-use performing arts center,
Canyon Wren Recital Hall,
Meadow Stage, an outdoor performance venue,
Cabins for artists, students and guests,
Rehearsal spaces, and
Practice huts.
Notably known as a destination for chamber music, ICCA also plays host to world class arts education programs, summer camps, and numerous collaborations with local artists and performance groups. Dozens of local and international artists work with the organization annually, providing once-in-a-lifetime experiences for hundreds of students and attracting thousands of audience members for unforgettable experiences.  To learn more about Icicle Creek Center for the Arts and upcoming programs and events, please visit icicle.org.