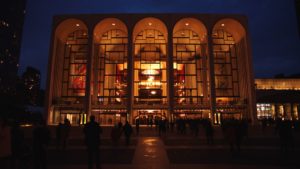 The Met: Live in HD has been a Saturday morning staple at Icicle Creek for over 7 years when we streamed Eugene Onegin for the first time. It is most definitely a sight to behold walking into Snowy Owl Theater as the sun shines on the mountains; oh, and who could forget about the mimosas? During this time our theater has allowed opera lovers across North Central Washington, and especially Leavenworth, to experience the next best thing besides witnessing an opera in person at The Met.
With some of the best operas in the world having blessed our screen, we figured we should probably talk about some fun facts regarding The Met, and who knows, you might learn something new!
How old? The first opera ever held on its stage was Faust on October 22nd, 1883.
It hasn't always been smooth sailing for the world-renowned opera house
In the early years, there was a lot of change in management and after the first full season, the manager at the time, Henry E. Abbey, left the house with a $600,000 deficit.
The Metropolitan Opera House has not always been in the same location
Wanting their own theater, The Met was originally founded by wealthy businessmen on the corner of Broadway and 39th Street. It was soon realized that this location didn't offer the amenities necessary for state of the art productions. In 1966 the move was made and the house is now part of the Lincoln Center for the Performing Arts.
The Met has has hosted 32 world premieres
32 world premieres which include some of the greatest operas ever. Some of the works included among the expansive list are, La Fanciulla del West, Königskinder and The Ghosts of Versailles.
Broadcasts have been happening since 1931
Though we have been streaming The Met in Snowy Owl since 2013, the first ever opera to be broadcasted was Hänsel und Gretel on Christmas Day in 1931.
Find the full history of The Met here, and for a limited time they will be doing a nightly stream of an opera from their archive! You can find that here!