Fun Art Activity Resources During Quarantine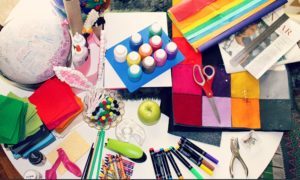 The arts are an incredible way to keep you occupied and sharp during these uncertain times. Painting with coffee, using food coloring for water colors and repurposing everyday items to make your own art gallery can be a great way to keep your mind busy while also having FUN!
We too wish we could see you at Snowy Owl Theater for an opera or in Canyon Wren Recital Hall for a chamber music concert, and although we can't right now, there are still plenty of amazing ways to have fun with the arts! Check out our list of resources below!
Click here for 27 art activities you can do at home!
Check out this link for 100 silly drawing prompts everyone will love here!
Click here for 4 fun one day art activities! Includes drawing, coloring and taking pictures!
Amazon has allowed over 40 titles for kids tv shows to be streamed for free, even without prime, during this time! Click here.
ArtsEd Washington released school curriculum for art for students K-6! A great resource. Click here!
A great blog for keeping busy while still getting educated through the arts while at home! Check it out here!
We want to see your creativity at Icicle Creek! If you finish one of these activities, post it to social media with the hashtag #DailyArtDose and tag us so we can see it!