Artist Grant Application Opens December 15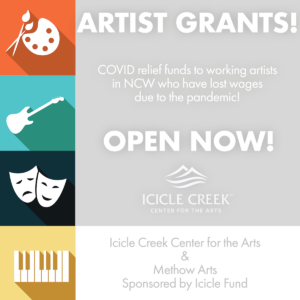 Thanks to the Icicle Fund, Methow Arts and Icicle Creek Center for the Arts will get to provide 72 artists with critical funding during a very difficult year. The Icicle Fund 2020.21 Relief Fund provides $72,000 in artist grants in support of the critical needs of working artists in North Central Washington* whose incomes have been impacted by COVID-19. *Please note, grants are intended for working artists residing in Okanogan, Chelan, Grant and Douglas Counties.
Artists are the basic building blocks of the Arts Ecosystem – without creating artists, the system does not exist. Due to the COVID-19 pandemic, NCW artists are facing severe loss in income and business. The Icicle Fund recognizes that artists continue to be deeply impacted as events, conferences, art at Farmer's Markets, and performances across the country continue to cancel. They are impacted by hospitality industry and retail/artist studio closures, school closures, travel restrictions, continued lay-offs and social distancing recommendations.
Icicle Creek Center for the Arts will review and artist grants in Chelan and Grant counties and Methow Arts Alliance will review and award artist grants in Okanogan and Douglas counties.
Apply via Icicle Creek or Methow Arts starting December 15.  Click here for more details.