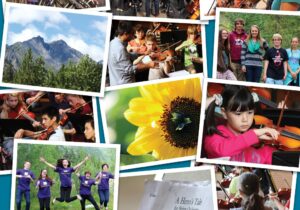 If you've come out to our campus recently, you can tell that change is in the air! The sun is out and snow is melting as we get ready for spring, and great events and concerts and workshops are popping up every week. Amazing things are coming down the line and we can't wait to share these exciting developments with everyone in our community.
Unfortunately, while we're still in these planning stages, we have to briefly pause a few of our existing programs while we figure out the details of how better to serve the people that live here in north central Washington. We want Icicle Creek to be a place where everyone in the NCW – children, students, adults, elders, and artists – feel welcome and can find art experiences that inspire, teach, comfort, or challenge them. But, as we know, growth and transitions take time.
While we are getting some of these details in place, we have decided to pause our summer camp offerings for 2023.
We know that our Summer Symphony, Acting, Musical Theater, and Young Pianist Camps have been a highlight for hundreds of young artists over the years, and this is not a decision that we have made lightly. This pause will give us the opportunity and resources to develop our next iteration of summer camps and programming so that we will be able to come back in 2024 with even more opportunities for students of all backgrounds to have transformational experiences at Icicle Creek.
We are so grateful to all the staff and faculty and students who have shared their time and talent with us over past summers, as well as to students and families who want to participate in the future! If you have a moment, please fill out the survey linked below and let us know what you would like to see at ICCA in 2024 and beyond. And then stay tuned over the next few months as we unveil a new plan for how Icicle Creek will be shaking things up and bringing exciting new opportunities to the Upper Valley and all throughout the NCW.
TL;DR – We're pausing our camps this summer in anticipation of a new model of summer programming to start in 2024 that will create more opportunities for NCW students to be involved.
Great things are coming! Thank you for joining us for the ride.
All my best,
Phil
……………………………..
Phil Lacey
Executive Director
Icicle Creek Center for the Arts