Icicle Creek Takes Over Leavenworth Ale Fest. Tickets On Sale!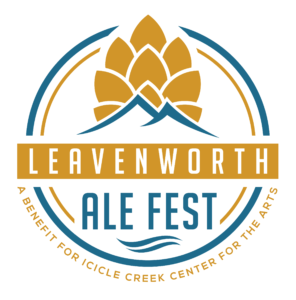 Leavenworth's Icicle Creek Center for the Arts has officially taken the reins for the 13th Annual Leavenworth Ale Fest to be held at the
Leavenworth Festhalle on Sat., April 13, 2019. After an application process, Icicle Creek, a nonprofit arts education and performance center in Leavenworth, was officially selected to take over the event from The Leavenworth Nutcracker Museum which founded the Leavenworth Ale Fest in 2007.
"We're grateful to be assuming responsibility for this festival and will work hard to turn it into an important annual fundraiser in support of the the Arts and arts education across North Central Washington," said Icicle Creek Development Director Jamie Howell, who is also serving as the new festival director.
Icicle Creek is undertaking a full rebranding of the event, launching a new website (leavenworthalefest.com) along with making a series of updates to the event itself including:
• More breweries: The 2019 Leavenworth Ale Fest will feature no fewer than 40 breweries, up from the 24 participating breweries in recent years.
• Single day event: The event will run one day only this year – Sat., April 13 – from 6:30 p.m. to 10:30 p.m., with VIP tickets allowing early access at 5:30.
• Make Ale for the Arts Home Brew Competition: A new competition for home brewers has been added to the event with BJCP-certified judges.
The event will continue to feature live music, beer tastings (and ciders), and brewery awards, as well as continuing to take place at the Leavenworth Festhalle.
A portion of the event proceeds continue to be earmarked in support of The Leavenworth Nutcracker Museum, but the primary beneficiary will now be Icicle Creek Center for the Arts.
Organizers are currently soliciting breweries, home brew competition entries, event volunteers as well as area businesses interested in sponsoring the event. Further details are available at leavenworthalefest.com.