Chamber Music Festival Brings Music to the Community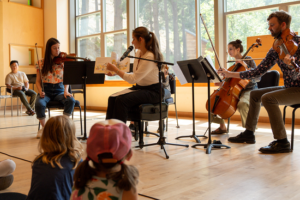 Icicle Creek Center for the Arts' Chamber Music Festival and Chamber Music Institute (CMF and CMI) is a unique program. In its 29th year, CMF brings together esteemed faculty and brilliant young artists for three weeks of intense study and abundant performances that are a boon to both the musicians and the community. In addition to the ticketed events in Canyon Wren recital hall on campus, ICCA and the CMF shared glimpses of musical mastery with several free concerts throughout town.
Seven of the young artists and Artistic Director Oksana Ejokina visited Mountain Meadows Senior Living Campus to treat the residents to two complex pieces—a piano trio that Debussy composed when he was only 18, and a string quartet by Arensky written in homage to his friend Tchaikovsky.
Close to thirty residents filled the meeting room. Before playing, the students introduced themselves and shared their diverse backgrounds. Students included natives of Tacoma, Chicago, and Vancouver and those much further from homes in Russia, South Korea and Australia, and all are studying at prestigious music institutions. The residents listened intently to the music's shifting moods—vivacious plucking and fast tempos contrasting solemn low chords and quiet and ethereal passages. There was some finger and foot tapping and lots of applause at the end of this lovely and intimate concert.
Fifty-four community members showed up for an interactive family concert by a quartet of CMF young artists. The musicians played the song, "Frère Jacques" with two very different styles and the kids in attendance were able to intuit that faster and higher music conveyed a happier mood while slower and lower music was sad. They learned that the third note of a scale, whether a full step or half step up, makes a huge difference in tone too.
One young artist then read aloud two children's books, Corky Cub's Crazy Caps and Dilly Dog's Dizzy Dancing, by beloved local author Barbara DeRubertis, while the other musicians interjected lots of fun musical emphases to show the emotional journey of the characters. It was a short and sweet introduction to the world of chamber music.
Other community events included a kids' concert at the Leavenworth Library and an outdoor concert at the Leavenworth Farmer's Market.
The handful of community members who attended the public masterclasses were treated to deep conversations about how to play a piece so that it meshes the individual voices of each instrument into a cohesive whole, and so that it pays tribute to the composer and the milieu in which the song was written.
Tina Dahl, a longtime professor, chamber musician and now the Chair of the Music Department at Stony Brook, led a recent masterclass and worked with three different ensembles to help elevate their playing through thoughtful consideration, measure by measure. She emphasized balancing what each instrument brings to the piece, thinking about who is leading a certain section, and how to mimic another instrument so the sounds blend better. If the music is telling a story, then the musicians must agree as to what action and emotion is being conveyed in each part of the story.
Two locals who sat in on the masterclass were siblings Theresa and Stephen Druzak. Theresa Druzak said, "A masterclass is a unique opportunity to hear wonderful music, executed well, then taken to a new level of excellence."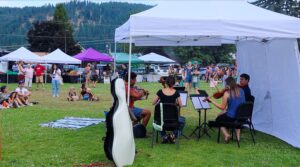 "One of the great values of Canyon Wren is audience proximity to performers," added Stephen Druzak. "Rather than being spots on a stage far away, the players are close enough for one to see indicators of technique and interplay."
Theresa Druzak attends the public masterclasses whenever possible, saying, "The mentoring by the faculty not only helps the students work together to create a better performance but helps a non-musician like me see and hear the music in a different and more enjoyable way."
Dahl expressed why Icicle Creek's CMF is distinct, saying, "Summer festivals are going on all around the world. Most are presenting festivals. It's much rarer for there to be an educational component where students come to learn and play.
"Icicle Creek's Chamber Music Festival is a profound opportunity," she continued. "It is a place to think about who you are through music."
Luckily, local audiences get to share in the transformative power of music when they attend one of the many CMF concerts.
Marlene Farrell
August 1, 2023