The Magical Strings performance for Thursday December 22nd at 7:30PM has been canceled due to the weather storm warning; for the safety of our artists and audience members. If you have tickets to this performance we will be reaching out this afternoon to confirm the cancellation and refund of your ticket fees. If you have questions please don't hesitate to reach out to us at tickets@icicle.org.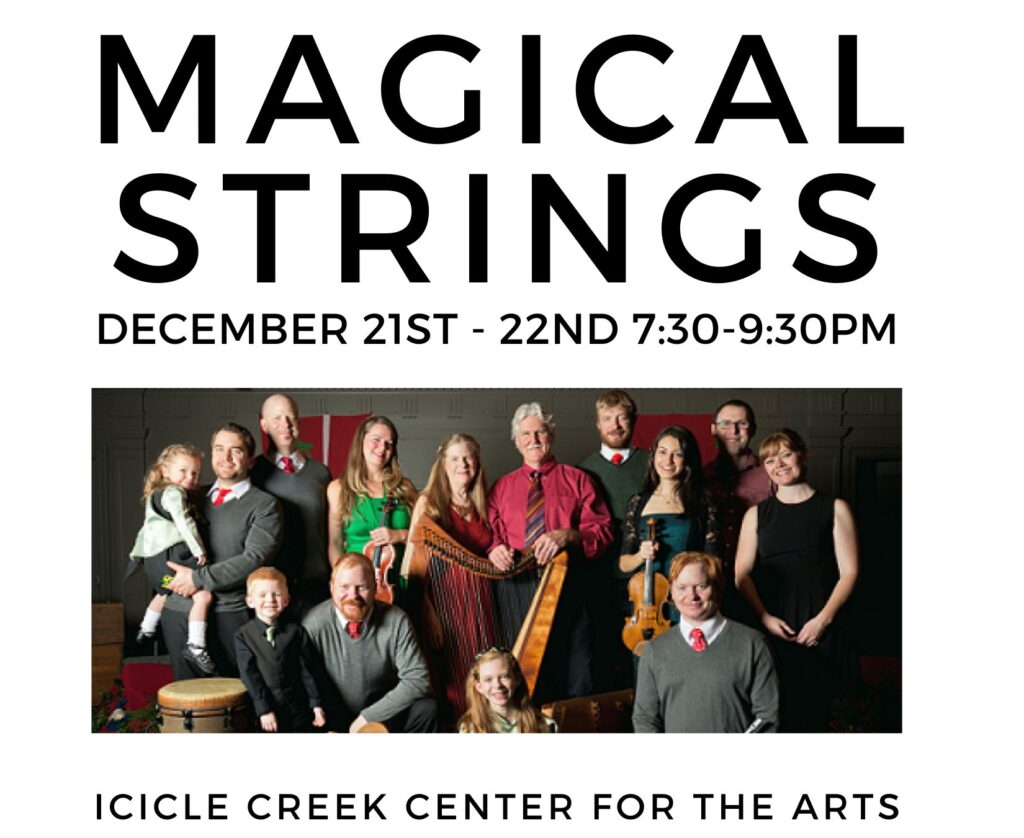 Magical Strings will be performing TODAY & TOMORROW at 7:30PM in the Snowy Owl Theater.
Tickets are available at icicle.org or at the door starting at 6:30PM Below is a bit more about the group!
Our Celtic Yuletide Story
We are well into our 5th decade of Celtic Yuletide as a family, and it all began 44 years ago. Pam and I and our four young boys (twins Morgan and Marshall 4, Brenin 6, and Geoffrey 8) would hop on a ferry to Seattle and bring our harp, hammered dulcimer and little instruments to the Grand Central Arcade in Pioneer Square to play for all who would stop to warm their hands by the fire in the cavernous brick hall. So much interest was generated that we started to keep a mailing list and decided to do a concert. We booked the Seattle Concert Theater (long since torn down) then walked to a nearby print shop where Pam created a hand-drawn poster which we duplicated, posted around Seattle and mailed out. We nearly filled the 400-seat hall, and a tradition was born.
As that first audience sat silently waiting for the concert to begin, I realized I had forgotten to tune Brenin's quarter size cello. As I stood up to do so, twin Morgan crept up to a mic and spoke the first words ever uttered at Yuletide: "Hello, microphoooone!"  Well, that broke the ice and when the roar of laughter finally quieted, we started "Love Came Down at Christmas", the lovely pentatonic Irish carol.
At that first show the mischievous red-headed twins did a hilarious 'elf-dance' which evolved into stories of the Elf Princes of Magic Hill; and two years later, the "Fairy's Gift", daughter Brittany as a newborn, was brought on stage in a basket by the fairy queen.
We ended the evening with the whole audience singing along on "All Through the Night" – hearts were filled – and from that day forward, the timeless 'bookends' of every Yuletide show since and hence, were established.
Over the years the concerts expanded to include more guest artists, more venues, and more complex stories…until one fateful day when the Raney family introduced themselves to us. Our Yuletide family then grew in more ways than we could have imagined.  One of the six sisters comprising the Raney Irish Dancers caught Brenin's eye… in time came marriage, grandchildren, and the Tara Academy of Irish Dance – we inherited a 'clan' of champions! It wasn't too many years later that guest artist, amazing percussionist Matt Jerrell, caught the attention of another Raney lass, Brigid. Matt was roped into the clan, adding little dancers Cadence, Eli and Aislinn to the Yuletide family.
Over time, our children grew up, married, and had children and careers of their own. Brittany, who at the 4th Yuletide concert
received the 'gift of music' as the fairy princess, seemed to fulfill a prophecy and took up music to a high degree becoming a violinist for the Seattle Symphony, soloist and chamber musician in great demand.  Her husband Prescott, a former opera singer among many other talents, has joined Yuletide over the last several years as lead singer. Little Freya is their precious 2-year-old, she most likely will be on stage as often as possible. She loves to dance.
            In years past all our children returned home for these concerts; sometimes alone, sometimes with their families. Now three of the five live here in the NW. Morgan who plays whistles and organ may appear with his 16-month-old little Hunter, who stole the show this year in Kent. Often eldest Geoffrey and twin Marshall join us from Rhode Island for certain shows. Brenin and Sara's daughter and dancer extraordinaire, Rowan, now lives and dances in San Francisco after receiving her BFA in dance this past year. Their son, our grandson, Haydn, who adds his brilliant percussion, will light up the dance floor along with other champion dancers from the Tara Academy of Irish Dance. Both Haydn and Rowan are World qualifiers, along with several members of the Tara Academy.
From the West Coast of Canada, fiddler Jocelyn Pettit once again brings her uplifting energy and engaging stage presence to Celtic Yuletide.  Over the past 15 years, Jocelyn has performed across North America and internationally, appeared on CBC and BBC television and radio, and received multiple awards. She has a Master of Music Degree from the Royal Conservatoire of Scotland in Glasgow. Jocelyn's third release, Wind Rose, features original compositions and fresh interpretations of traditional and contemporary tunes.  She was nominated for "Solo Artist of the Year" at the 2023 Canadian Folk Music Awards. Her newest album, All It Brings, is hot-off-the-press and features nuanced fiddle-cello interplay and interwoven harmonies.
We are thrilled that Colm McCarthaigh, virtuoso guitarist and singer-songwriter from Dublin, who fortunately now lives in Seattle, is once again with us for the entire season of Yuletide concerts.
Thank you for joining our Yuletide family this evening to share in the music, stories and merriment that have been the hallmark of our Celtic Yuletide journey these past 44 years!
McKenzie Baird
December 21, 2022